Puff-Puff is a widely consumed West African street snack that may be prepared quickly and easily in a variety of ways. Deliciously addictive and dangerous!
When I was younger, I used to marvel at the women selling the puffs as they would scoop up the mixture with the tips of their fingers, set it in the palms of their hands, and then drop it into the oil.
I was enthralled by this procedure and would practice it with any available concoction when I got home. However, it was never as visually beautiful or proportionate as the way the women executed it. I believe I'm now getting the hang of it after years of practice as an adult.
What is Puff Puff?
Puff-Puff is a well-known street snack in most West African nations especially Nigeria, though it goes by different names depending on where you are. If you are looking for a longer definition you might wanna check what Wikipedia says lol.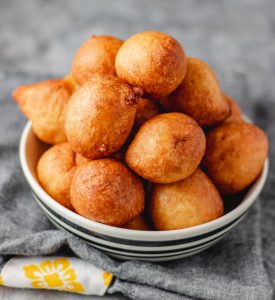 It is a simple dish with several variations that can be made quickly and easily. I've been cooking this recipe for years, and it always makes me nostalgic for my upbringing. It reminds me of eating street food late at night.

Suggestions for Serving

Typically, puff-puff is consumed as a side dish, a snack, or for breakfast. They are tasty with or without a side dish no matter when you eat them. Pepper sauce is a must-have item for me. If you don't want to use your hands, scoop the dough into the oil instead of using a spoon. It still has a great flavor!
The appeal of puff pastries is that they may be eaten both sweet and savory. It works well as a snack, starter, or dessert. I frequently have it as a snack or an entrée. It is undoubtedly a simple dessert that my son enjoys when it is served with a bit of powdered sugar.
Want to get the blessinglicious puff-puff experience? Order here