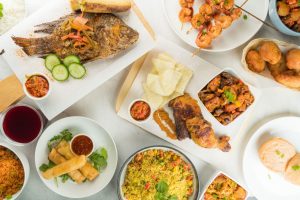 In the competitive landscape of Nigerian cuisine in Toronto, Blessinglicious stands out by offering unparalleled quality. As a premier restaurant in the industry, we know the importance of exceeding customer expectations and delivering an exceptional food experience. Every aspect of our operation is geared towards providing a memorable Nigerian culinary experience. Our commitment to quality ingredients and street-style cooking techniques sets us apart and drives customer loyalty. Join us and discover why we are one of the top 10 restaurants in Toronto:
1- Quality Ingredients
We start with the best possible ingredients to create the best possible dishes. We source our ingredients from local and international suppliers to ensure the highest spice quality and freshness. Our meats are always fresh, never frozen, and we use only the finest Nigerian spices and seasonings to create our signature flavors.
2- Vegetarian and Vegan Options
While Nigerian cuisine is known for its meat dishes, we understand that not everyone eats meat. That's why we offer various vegetarian and vegan options on our menu, including vegetable stews, plantain dishes, and bean soups. We simply believe that everyone should be able to enjoy our delicious food, regardless of their dietary preferences.
3- Authenticity
One of the most critical qualities of any Nigerian restaurant in Toronto is authenticity. Our chefs use traditional street-style Nigerian cooking techniques and ingredients to create dishes that transport our customers to the heart of Nigeria. From jollof rice to egusi soup, our menu is filled with authentic, flavorful dishes that capture the essence of Nigerian cuisine.
4- Customizable Spiciness
Nigerian dishes are known for bold flavors and spices, but not everyone can handle the heat. We offer customizable spiciness levels on our dishes. You can enjoy the flavors of Nigerian cuisine without the fiery burn. Whether you prefer mild or spicy, we've got you covered.
5- Creative Menu
While we are committed to authenticity, we are also committed to creativity. Our chef always experiments with new flavors and ingredients to create exciting new dishes for our customers. We believe that by pushing the boundaries of traditional Nigerian cuisine, we can create something truly unique and unforgettable.
Conclusion
These qualities set us apart as one of the top Nigerian restaurants in Toronto. We offer online ordering and delivery services to make it easy for our customers to enjoy our delicious cuisine. Our online delivery is fast and reliable and ensures that you can enjoy our food no matter where you are. Next time you're looking for a delicious dish, order online and taste the difference yourself!